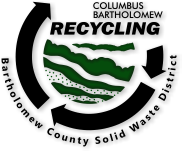 Tox-Away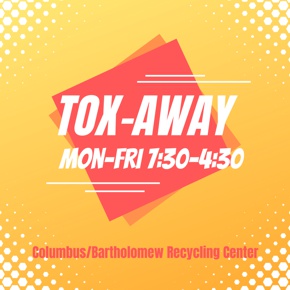 Household Hazardous Waste (HHW) is accepted from Bartholomew County residents at the Columbus/Bartholomew Recycling Center at 720 S. Mapleton during regular hours. Remember to always handle HHW with care. Keep away from children and pets.
The following is a menu of the HHW we accept:
Household Batteries - We only accept RECHARGEABLE batteries (Ni-Cad, Ni-MH, Ni-Zn, lithium ion, cell phone batteries) for recycling. Limit 5 per visit. Alkaline batteries can be disposed of in the trash.
Automotive Batteries - 5 battery limit.
Motor Oil and Oil Filters - 5 gallon limit. No gasoline filters. Hydraulic filters are OK.
Cooking Oil - 5 gallon limit.
Gasoline/Diesel Fuel/Kerosene - 5 gallon limit.
Antifreeze - 5 gallon limit.
*Oil Based Paint - 5 gallon limit. **No latex paint.
*Thinners - Including paint thinner, mineral spirits, finishes, stains, polyurethane, varnish etc. 5 gallon limit per item. No chlorinated solvents.
Liquid Weed & Brush Killer - 5 gallon limit.
Liquid Lawn Fertilizer - 5 gallon limit.
Mercury - Please call 812-376-2614 for a list of Mercury containing materials that we will accept.
Battery Acid, Muriatic Acid, and Hydrochloric Acid - 1 gallon limit.
Intact compact fluorescent and fluorescent tube light bulbs (2ft/4ft/8ft). Limit 5 per visit.
Smoke Alarms/Detectors - Limit 5 per visit.
Fire Extinguishers - Limit 5 per visit.
* Please make sure all paints, thinners and weed/brush killer containers are properly labeled.
Latex paints can be dried out and placed with your regular trash for collection.
The following materials will NOT be accepted at the Columbus/Bartholomew Recycling Center
Unlabeled paints, thinners, and weed/brush killer
Aluminum Paint/Aluminum Paint Sealer
Automotive Paint
Concrete Sealer
Asphalt Sealer
Roofing Tar
Cements, Adhesives, and Glues
Floor Hardeners
Aerosol Cans
Household Cleaners
Prescription Medicine and/or Any Form of Medical Waste
Residential and small quantities of these unaccepted materials can be solidified by drying and placed with regular trash for proper disposal.
For businesses and large quantities, contact National Environmental by calling 317-791-2200.
For more information about accepted HHW items, please call 812-376-2614.